A San Francisco literary magazine focused on queer and trans writing will receive a Whiting Literary Magazine Prize, a coveted annual award that celebrates emerging literature.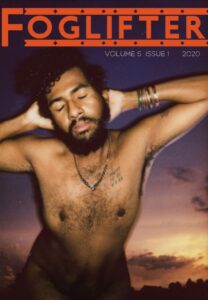 Foglifter Journal and Press is one of five recipients of the award, organizers announced on Wednesday, September 16.
The literary journal, founded in 2016, is the only winner outside the East Coast. Other recipients include One Story (Brooklyn), Conjunctions (Annandale-on-Hudson, NY); Kweli (New York) and Nat. Raw (Burlington, North Carolina).
Each award comes with a cash prize based on the magazine's total budget. Foglifter received $15,000, a "totally huge" amount for the organization, said editor Luiza Flynn-Goodlett, a poet who, like the rest of the staff, works on a voluntary basis.
"Having some financial security is super important, but it's really validation and recognition of what we're trying to do," Flynn-Goodlett said. "It's absolutely a labor of love for us."
Rooted in the Bay Area, Foglifter is a platform that provides representation for a wide range of LGBTQ voices, centered on queer and trans literary artists of color, youth, seniors, and those beyond LGBTQ identities. traditional.
"We're making space in the larger literary world, where LGBTQ voices may be marginalized or symbolized," Flynn-Goodlett said. "This is an act of love and service to our community, but we want people who don't identify as LGBTQ to read this as well."
Like the Whiting Awards for Writers, which have been awarded since 1985, the Magazine Awards (introduced in 2018) are sponsored by Mrs. Giles Whiting Foundation. The Whiting judges praised the magazine, writing that "a passionate commitment to building community, a collaborative editorial project, and an unwavering sense of imagination are hallmarks of Foglifter."
"A journal made by queer and trans writers who imagine (the publication) their pasts would want to read, Foglifter is a bright spot on the literary map for thinkers, artists and readers of many generations," they wrote. "The work he publishes is fresh, lively and mature with creative energy."
In addition to its biannual literary journal, Foglifter publishes collections of emerging writers and anthologies through partnerships with Bay Area literary organizations like Still Here and Queer Ancestors Project. They also hold free release parties for every newspaper issue at Strut, a community center in the Castro District, as well as other free readings around the bay and beyond.
In its nine issues, Foglifter has published dozens of emerging writers, as well as a list of well-known authors such as Eileen Myles, Jewelle Gomez, Molly Giles and Ana Castillo. The contributors as a whole have won two Pushcart Awards as well as accolades for the best American essays, the Lambda Literary Awards and the CLMP Firecracker Awards for magazines.
"It's so nice to see our contributors take home awards," Flynn-Goodlett said. "We post weird stuff."
Foglifter and partner Radar Productions are accepting submissions for their Start a Riot! chapbook contest until November 1st. The series, aimed at emerging local queer and trans writers of color, awards $1,000 and publication each year to one author. The winner also earns a spot on Sister Spit, an extensive spoken word tour.
Foglifter: The magazine will launch its next issue online at Litquake Festival 2020 at 7 p.m. on Monday, October 12, with readings from Ching-In Chen, Piper J. Daniels, Chekwube Danladi and more. To learn more about the magazine, visit www.foglifterjournal.com. For more information about the event, visit bit.ly/foglifter-litquake.