► Porsche Variable Light Control tested
► No blinds needed for this sunroof
► But does it really work?
As nice as it is to have a large expanse of glass instead of a metal roof panel, there will be times when you want to cover it up. Whether it's because the scorching sun is threatening to melt your favorite travel treats, or you just haven't had time to clean up that birdie splash, some sort of blind comes in pretty handy.
This is usually an electrically operated roller arrangement controlled by one or two switches on the roof liner. It's fine in a regular car, but it's not very high-tech, is it? Given the shift from analog to digital, it was only a matter of time before someone came up with a sci-fi alternative.
Here it is: Porsche's Variable Light Control, the blind that isn't. It makes a simple piece of fabric on a roll seem practically prehistoric, while a fixed shade Tesla's favorite or even McLaren's electrochromic liner looks a bit outdated.
The Porsche system uses an electrically switchable liquid crystal film on the glass itself. Available on the Taycan and split into nine distinct sections, you can configure it to be fully transparent, fully opaque or an artistic blend of the two. Porsche says it's a €5045 (around £4200) option in Germany, with UK pricing yet to be confirmed at the time of writing.
You won't find any old-fashioned buttons to control it. There's a tactile slider in the roof liner where you'd expect a switch to be. Run your finger over it and you can change the translucency of the roof in nine steps. If you want finer control, there's a menu in the main infotainment touchscreen that's thankfully accessed by an easy-to-find shortcut icon.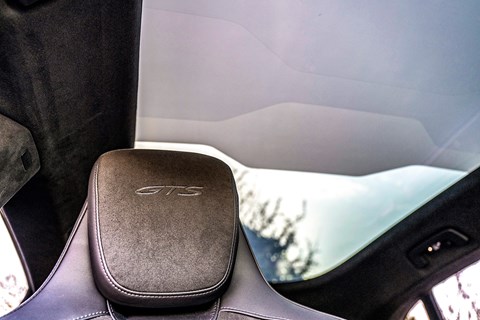 In practice, the system works well – as long as you never want to completely block out the light. Even set to its heaviest shade, the panel – now light gray – lets plenty of diffused light into the cabin, seemingly without baking occupants. As our testing was done on a cold but sunny February afternoon, we'll have to wait to pass a full judgment on its thermal properties.
What we can say with certainty is that the variable light control switches from clear to opaque and back instantly, making for an impressive display if you start switching between modes quickly. More helpfully, it can shield the kids in the back from the glare rays while you continue to enjoy it up front.
Porsche Variable Light Control: how it works
A touch of glass
You can control the tint via the touchscreen menu for the roof, which would be a hassle if there wasn't a handy shortcut button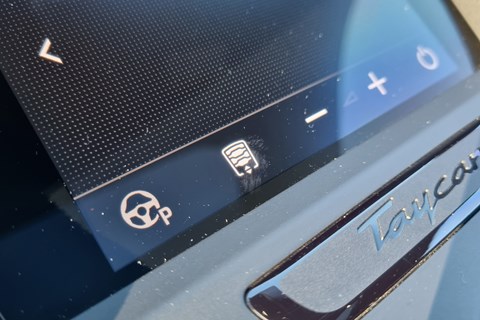 Press to tint
In addition to swiping your finger over the switches on the roof, you can select preset configurations on the touchscreen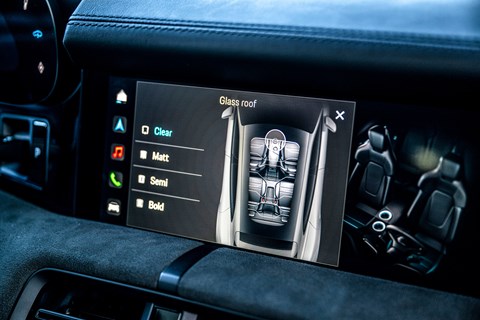 Bright and airy
Even fully opaque, you still get plenty of light indoors; ideal for an airy cabin, less for a nap
Porsche Variable Light Control: does it work?
Yes and no. Although it keeps you from being blinded or baked, it never completely blocks out sunlight. It's also quite pricey, with early price indications suggesting it'll be thousands more than the regular panoramic roof.