► First Nio model to arrive in Europe
► BEV available in six or seven places
► The establishment should be concerned…
You've heard of Nio, haven't you? The Chinese brand that broke the Nürburgring record for the fastest electric car with its crazy EP9? No? Well, you might start hearing a lot more about it. Now that the brand has established itself in its home market, it is aiming for European expansion.
And it's the first Nio car to hit European soil – the six- or seven-seater ES8. It's technically been on sale in China since 2018, but CAR headed to Norway – Nio's first European market – to roll the EV that gives Nio a foothold in a whole new region.
CAR drives the Nio EP9 hypercar
Yes, it looks like an SUV…
And it is designed to be one. Nio knows Europe is just as obsessed with SUVs as China, so it was a smart move to start with something this size. And that size is on par with the really big stuff – your X5s, GLEs and Q7s of the world – and yet it's battery electric, the only direct rival really being Tesla's now rather forgotten Model X.
Pushing the design a little further, the sharp, angular 'face' of the ES8 doesn't really seem to blend well with the much more rounded and smoother rear curves – to our eyes, at least.
Inside, if we have to draw comparisons, there's elements from Tesla, Polestar and Hyundai/Kia all mixed nicely here. It also feels properly premium with soft leathers, heavy switchgear and all the latest gadgets. Our test car had a business-class chaise longue for a passenger seat – feeling almost a step further than the reclining seats of the Hyundai Ioniq 5 – and Nio Pilot: the marque's semi-autonomous driving system.
The instrument and infotainment screens are decently sharp, with Tesla-like graphics in the driver's cluster to let you know what the car is seeing around it, and a very crisp center display. There are physical buttons for key menus, but most functions require you to tap or swipe. Some of the functions are (perhaps too) well hidden in sub-menus, which takes some getting used to – a bit like Tesla's whopper of a menu system.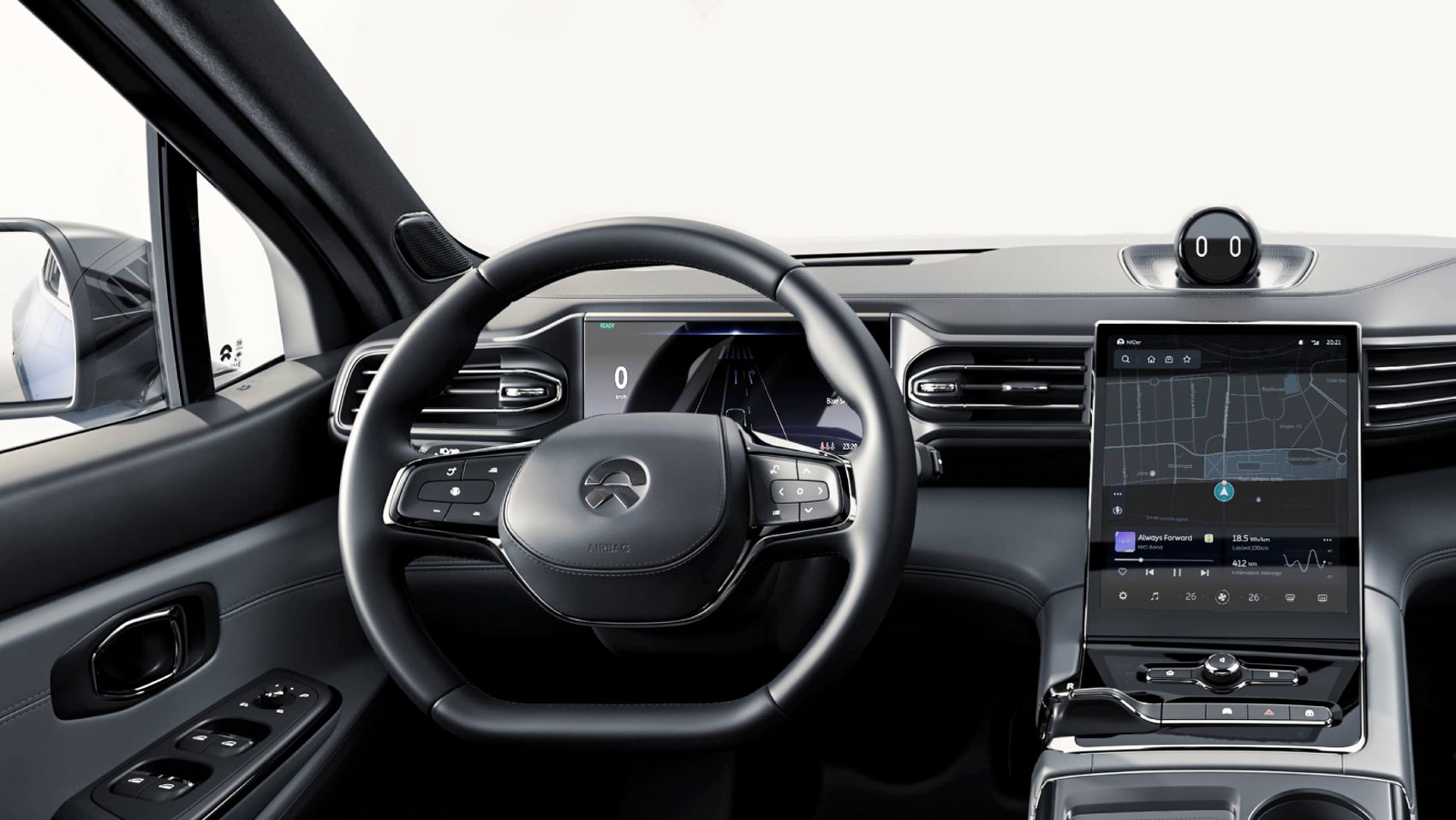 Even so, Nio has a party piece: Nomi. Ok, maybe not so much of a party tune when you boil it down – Nomi is basically a voice assistant program, nothing new these days – but Nio animated it with a robotic "head" on top of the dashboard. His recognition wasn't faultless – he only recently learned English and needs a lot of tweaking, but we managed to turn on the heated massage seats and turn up the air conditioning just by saying "hey Nomi". His knowledge and actions will grow over time, Nio explains, including asking him questions about the weather or telling jokes. Since it's animated, its cute "head" turns to listen to you and even has quaint animations like waving maracas when you play music or saying goodbye when you open the door. Nio says its Chinese customers love it, but we Europeans are arguably a little more arrogant about details like that.
The middle row (we sat in the back of a six- and seven-seater version) feels huge in terms of legroom and headroom, even with a tall driver up front having plenty of space. space. The rear row, meanwhile, can also accommodate an adult in the blink of an eye.
Can you tell me how it rides now, please?
Before we get too far, our drive has a few caveats: we didn't spend much time in the car (no more than an hour) and it was mostly smooth Norwegian highways or the narrow streets of Oslo. It should also be noted that all ES8s have air suspension, two electric motors for all-wheel drive and a single 536 hp, as well as four-piston Brembo brakes. If you choose the 100kWh battery option, Nio says it's capable of 310 miles on a charge (we saw a max of 280 miles in freezing temperatures in Norway) and the ES8 very recently passed rigorous EuroNCAP crash tests with flying colors.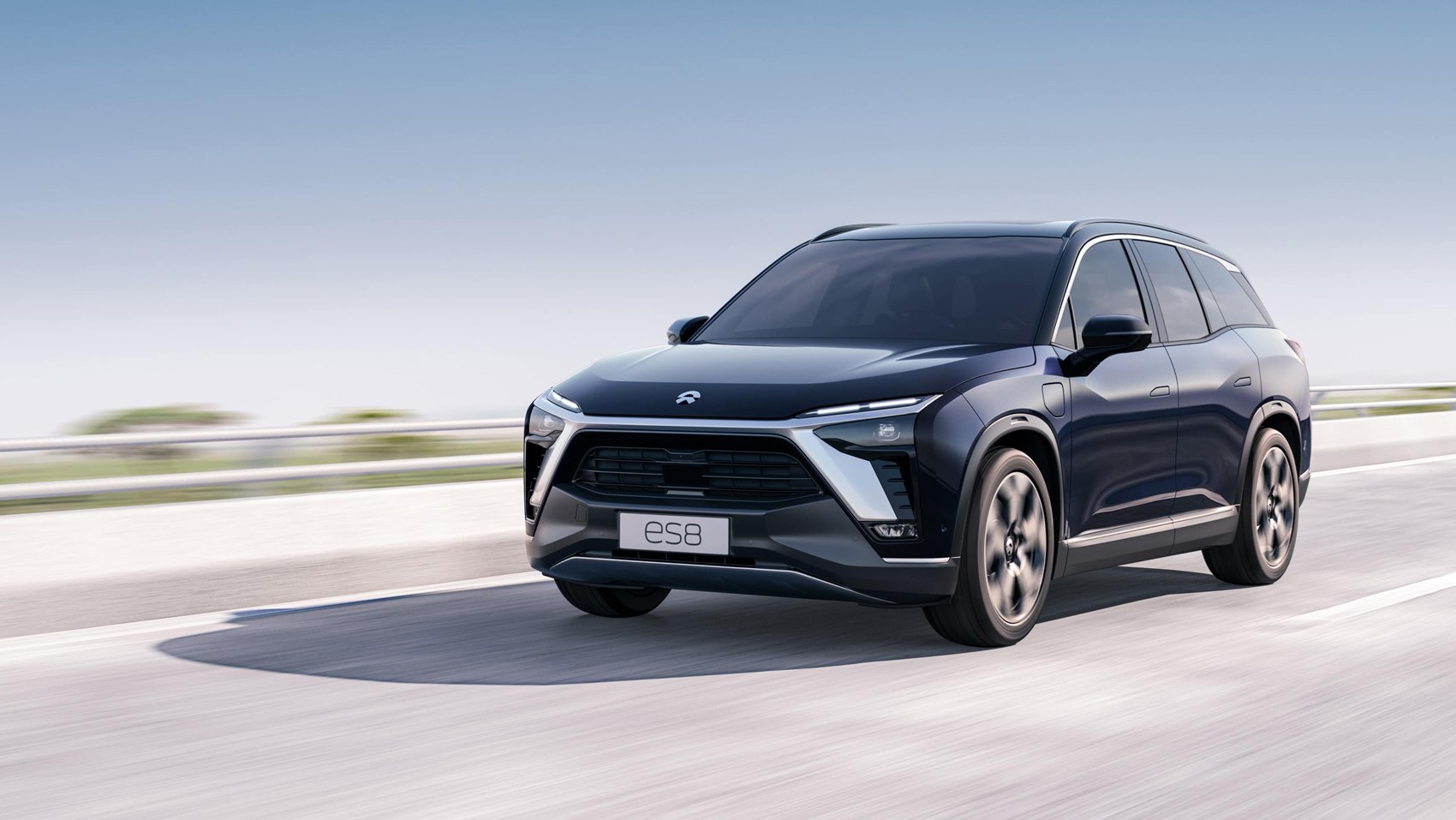 Either way, getting to grips with the ES8 isn't like sitting in a vehicle from another planet. The driving position is impressive, with the driver's seat highly adjustable and apart from a quirky drive selector sticking out of the center console and a square steering wheel, there's not much to bat an eyelid.
Acceleration is plentiful, with that satisfying rush of pure torque that propels you forward with ease. The ES8 has the usual suite of drive modes – Eco, Comfort and Sport – with only Sport giving you the quickest acceleration sprint of under five seconds.
The steering is hyper-responsive, which works for and against the ES8. On the streets of Oslo it's remarkably responsive to your entrances, letting you squeeze through gaps and weave around tight bends, but on the highway it doesn't slack off or get weighed down not, which makes the ES8 as nervous as you are at speed.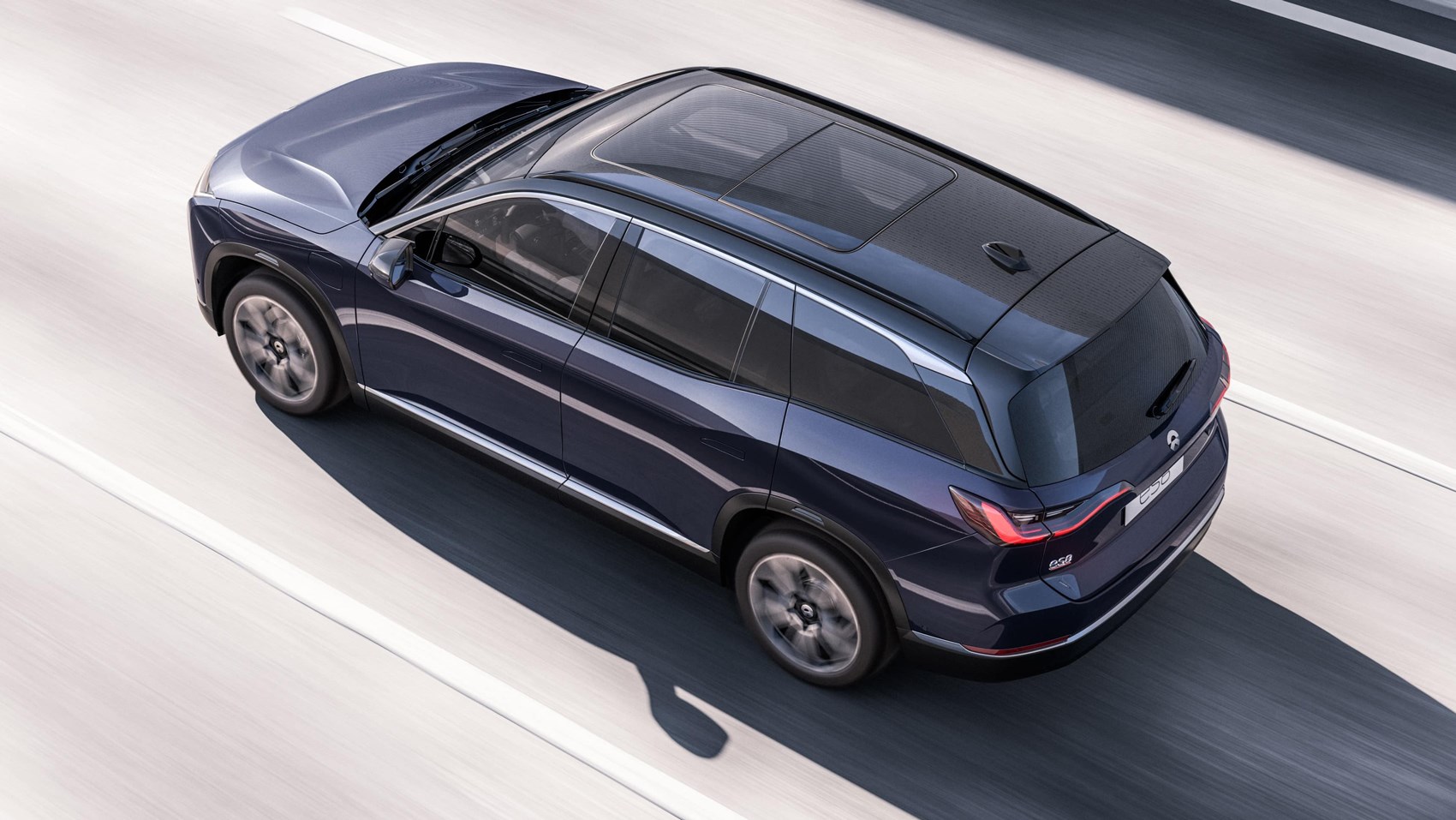 This can be counteracted by Nio Pilot (which works much like any semi-autonomous driving assistance, including Tesla's Autopilot) which is extremely smooth and stays in its lane without ping-ponging between markers of way. We would need more time to try it, though – our time was on a clean piece of Norwegian motorway on a sunny day, which isn't exactly the toughest of conditions.
The air suspension system is impressive, giving the ES8 a smooth ride. The wheels translated the jolts over bridge expansion gaps, but tackled potholes remarkably well, despite riding on large wheels. It's also remarkably refined and a suitably plush place to be on the road; wind noise and tire noise are suppressed extremely well – which is usually a challenge when designing and building an electric vehicle.
Why should I buy this over a Tesla, or anything else for that matter?
Because the brand has a USP: the Nio Power Battery Swap Station. As well as having the ability to charge your car conventionally, if you're in a hurry or want a bit more peace of mind on the charging front, Nio has developed a fully automated platform to essentially unplug your battery almost dead and push a new one. The brand says it's not really chasing electric vehicle buyers, but those with combustion engine cars looking to make the switch – with that technology being the main detail that sets Nio apart.
Nio calls the entire program "Battery as a Service," or BaaS, pointing out that there are already 867 exchange stations in China, with the first in Norway being the 868th. Nio says 19 more are planned in the country.
You "order" a battery via the car's infotainment, and are placed in a virtual queue based on how far you are from the station. Once there, you park in a marked bay and the car reverses there autonomously. The platform unlocks the battery already in the car and plugs in a new one in less than six minutes.
If you want access to this technology, you'll pay less for your car and pay a monthly battery subscription instead, gaining access to two free battery swaps and 200kW of free juice via a conventional charger per month.
So when can I buy one?
Ah yes. Therein lies the catch: as you may have guessed, the ES8 is currently only available in Norway. Nio takes a very cool, calm and collected approach to entering Europe because we are such a disparate and hard-to-please group (our words, not theirs). In Norway, prices for the ES8 start at around £53,000 for one where you own the battery, or around £45,000 if you rent it, paying around £122 or £177 per month for access to a battery of 75 kWh or 100 kWh respectively.
It makes sense for Nio to start in Norway – it has the highest proliferation of electric vehicles of any European country, and Nio has already confirmed entry into Sweden, Germany, Denmark and the Netherlands in 2022. Focusing over Germany, Nio says its first model in the market won't be this ES8 but the new ET7 sedan – a car claiming a huge range and also capable of using Nio's battery-swap technology – to hit Audi, Mercedes and BMW where it hurts in the premium sedan segment.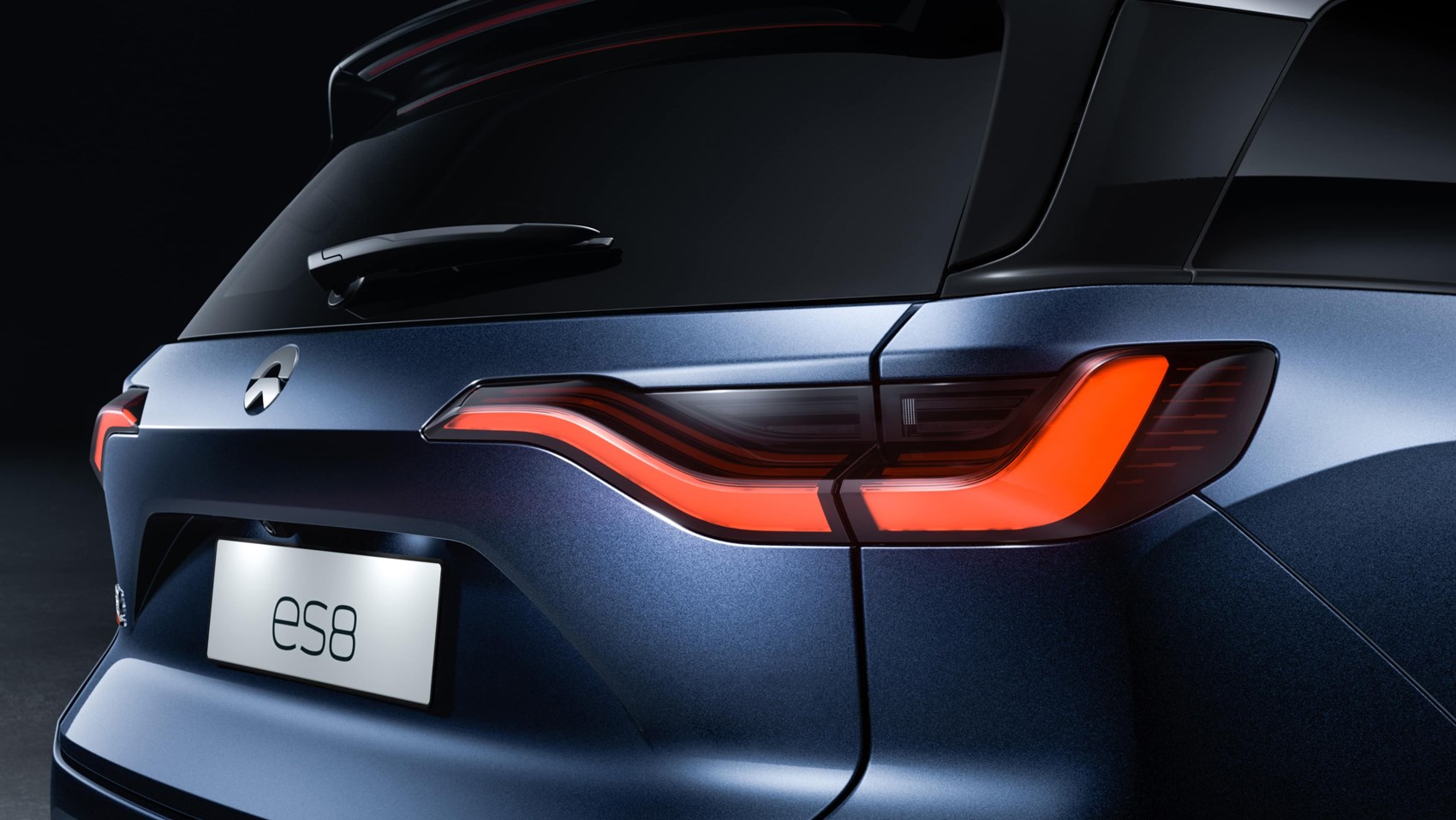 Will Nio ever come to the UK? The brand is very coy about doing so, which plays into its thoughtful approach to entering Europe in general. Even so, Nio Group Vice President Hui Zhang told CAR that Nio "cannot ignore Europe's second largest car market". Read whatever you want.
Nio ES8: Verdict
Even after a brief drive, we came away quite impressed with the ES8. It's a refined, comfortable and high-tech place inside and while it might not be the sharpest thing on the planet, it packs plenty of performance and a competitive range. The fact that Nio offers this new alternative to conventional charging is something of a USP for the brand. We'll have to wait and see if the brand ventures into the UK.