► Electric public transport obtains a range of 196 miles
► Up to 265 hp driving the rear wheels
► Backbone of Britain: Upgrade
Forget all the exoticism you usually find cluttering the pages of this website – the Ford E-Transit is quite possibly the most important vehicle launch of this year. A 100% electric version of Ford's large Transit van is no small feat.
Just consider how many things come to your house on the back of these things, how many miles the humble Transit travels across the country, in and out of towns and cities, each day. Electrifying even a small percentage of them – the initial mix will be around 5% (which is still one in 20) – is an important next step in the evolution of our current transportation system.
Also, the electric Transit doesn't perform at a level equivalent to the diesel models. In many ways, it's even better.
Why the big fuss? There have been big electric vans before, right?
Of course, there are already a few on the market. But most of them are poorly executed – as if a backyard garage had been tasked with converting them from diesel into some sort of post-climate version of Cuba's apocalypse – and the few that don't are not hampered by tiny driving areas and high prices.
So while Ford is late to the party, it took this time to fully prepare. A proper test regime means the E-Transit was put through the same pace as any other model in the range, while a 68kWh battery pack gives the Ford a "targeted" WLTP maximum combined range of 196 miles.
Available in 25 different versions, this will vary a bit, but it's 100 miles more than the equivalent Mercedes-Benz eSprinter (which only comes in one version in the UK). For example.
And while the starting price of £47,700 (plus VAT) might seem astronomical for a van – even a highly spec'd large – the five digits in competitions usually start with the number six.
What about performance? Aren't electric vans really slow?
The former instant torque goes a long way, but it's true – all major rivals suffer from modest power outputs. Again taking the Mercedes as an example, the eSprinter only has 116bhp, which isn't much if you need to load up your big van with building materials.
Ford approached this quite differently. Using one of the Mustang Mach-E engine packs, the less powerful variant has 135 kW, which is equivalent to 180 hp. This detuned model was added when the powers that be began to worry about the initial variant, which has 265hp – massively more than any other van currently on sale in the UK, and quite practical when the maximum payload is reached 1,758 kg.
Did we mention the E-Transit is also rear-wheel drive?
Fucking hell. It looks hilarious!
RWD in minivans is more about loaded traction than sideways shenanigans – and so far Ford's only let us try the less powerful model – but suffice to say you won't find many drivers complaining about the performance.
Even better, after making the decision to mount the engine in the rear, eliminating the need to deal with driveshafts, Ford had to completely re-develop the Transit's rear suspension. So instead of leaf springs and a live axle, the E-Transit features coil springs and independent suspension, instantly elevating its handling to another impressive level.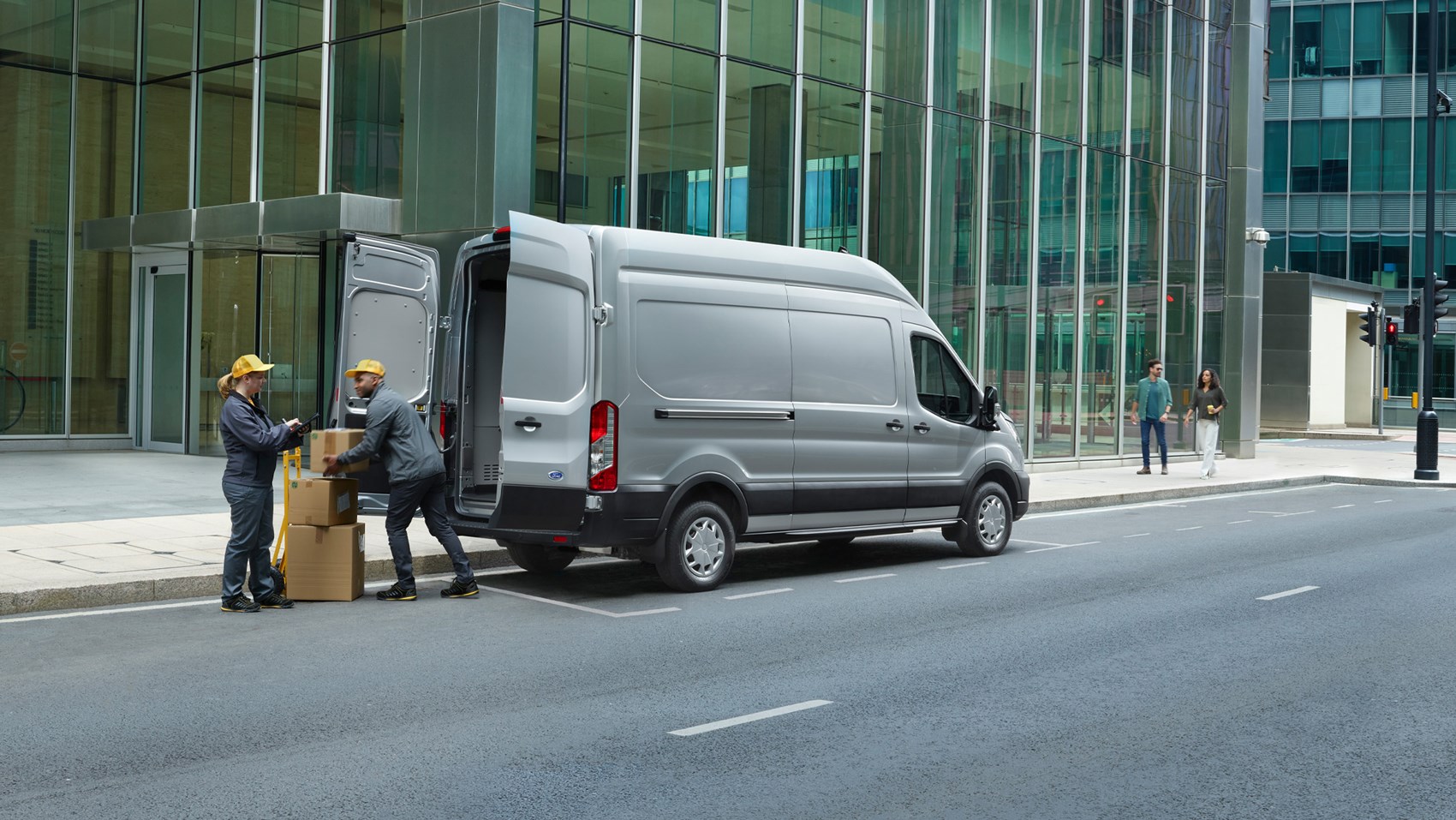 Add the battery under the load floor, which lowers the unloaded center of gravity by about a foot, and suddenly you have a great pickup truck that not only rockets off roundabouts like a silent rocket, but also does a good job of stay level and under control as they mow around them. Beware of taking the mail in a hurry in one of them.
The space under the hood is not empty – it's where Ford has hidden all the control systems and added a crash structure that engineers call the "mega brace", which replicates the structural role of the combustion engine in a frontal smash – but the nose is lighter and snappier to turn.
However, what's probably more relevant for most riders is that the independent rear end brings greater comfort over bumpy surfaces. The back is still a bit bouncy when unloaded, but even adding a modest payload gets this under control quickly.
Better than diesel?
Yes – although it's already one of the most fun-to-drive large vans, the E-Transit takes big steps beyond that. It's quieter inside (not always a given with an electric van, oddly), the single-speed transmission makes getting around a breeze, and there's a lot less vibration, too — although we detected when the air conditioning kicked in the loudest.
Ford has also developed a multi-stage brake energy regeneration system that's unlike anything we've experienced before. Unsurprisingly, there's a choice of drive modes – Normal, Eco and Slippery – plus an L setting on the transmission that increases engine drag when you lift off the throttle. But if you pay attention to the road ahead and see that a little extra engine braking can help, you can also press the brake pedal.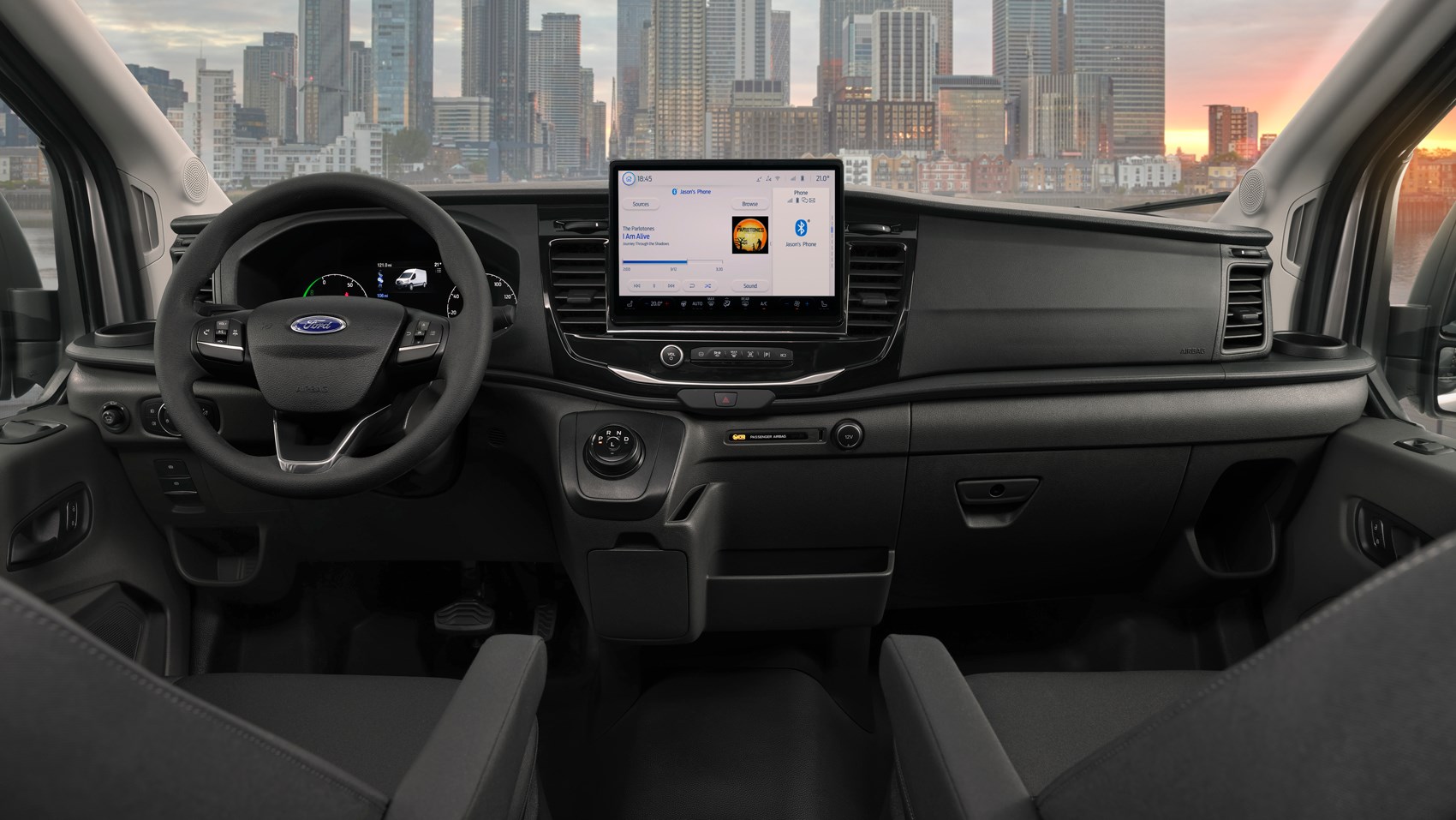 One tap gets you a setting halfway between the standard D and the more aggressive L, two taps takes you up to that level – and it then resets once you start accelerating again. The concept works well, if it also gives the vehicles behind it the impression that you might have a seizure, but it seems an odd approach when a set of paddles on the steering wheel could have achieved the same result in a more familiar way .
Also worth noting at this point is the driving coach on board. This not only takes the form of a percentage display on the center display, but also speaks to you if it really thinks you need instructions – like those times when you repeatedly stabbed the left pedal, trying to understand the regeneration process…
Are there other smart technologies on board?
That large central display is loaded with Sync 4, and although the Leader and Trend spec levels carry the same name as the diesel models, they both get more standard kit in the E-Transit. Upgrades include the ProPower Onboard system which uses the main drive battery as the power source for tools and equipment; there is a regular power outlet in the cabin and in the cargo area.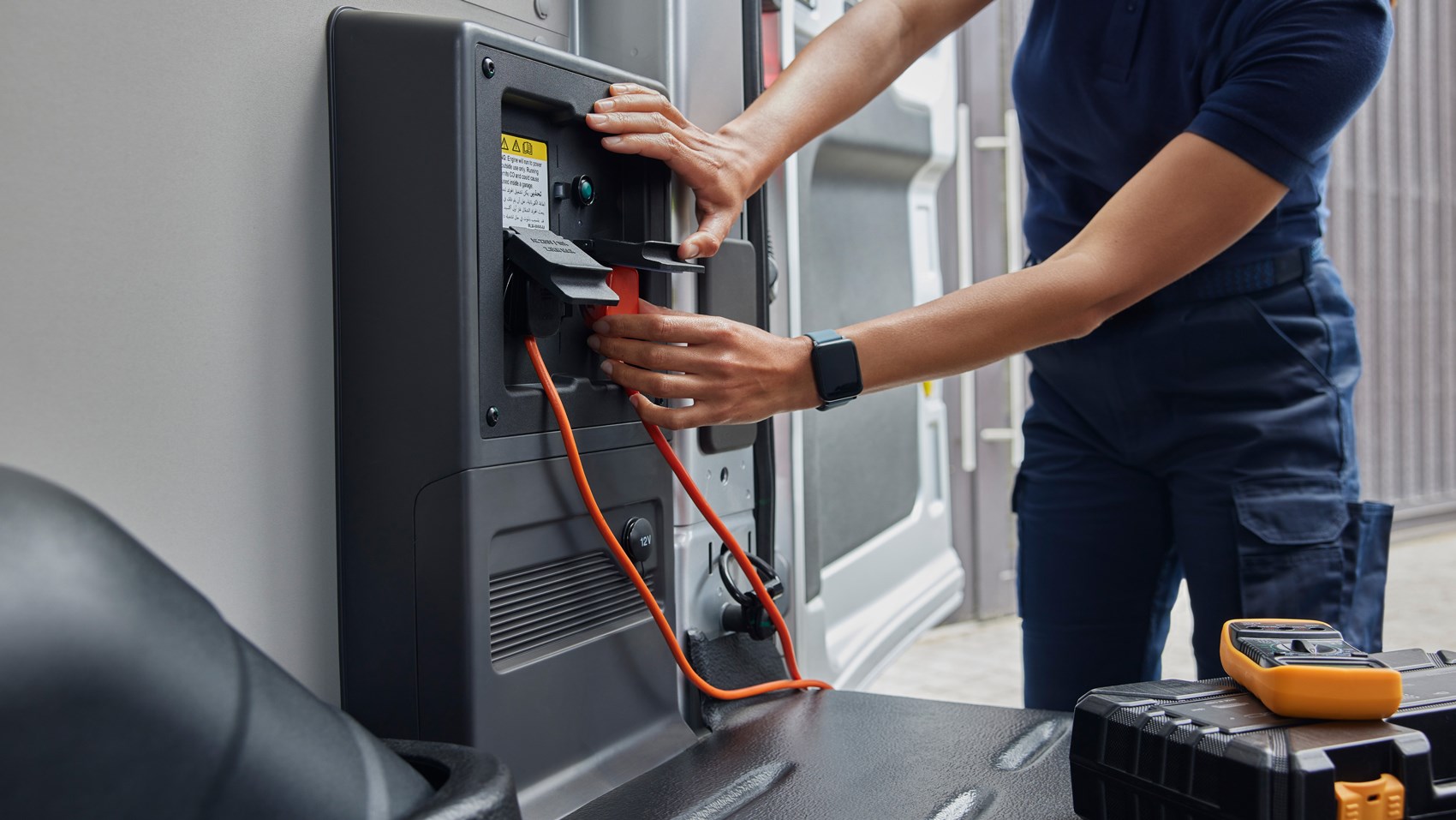 More critical here is the whole Ford Pro ecosystem that Ford is introducing around this pickup. It's got everything you need to get started with electric power, whether you're buying a van or a fleet. It's one of those automaker-as-service-provider things – Ford Pro offering fleet management, maintenance, financing and charging infrastructure advice and installation, all at a single point of contact.
It's not limited to E-Transit – or even Ford vehicles, as it's designed to fit into existing mixed-builder fleets – but it's particularly relevant here in its claimed ability to help you understand which parts of the company an E-Commit would be appropriate for, and then walk you through how you could handle billing for it. Looks pretty neat.
And how is it loading?
Reaching 100% will take over eight hours on 11.3kW three phase power – most UK households and are 7kW single phase will take over 12 hours, although this is improving.
The E-Transit also has 115kW of DC charging capability, which gets you 80% in around 34 minutes, but it costs more (mainly requiring the public charging network) and repeated use won't be good for long-term battery health.
Ford E-Transit: Verdict
All the positive things above seem like a small price to pay for shorter battery life and having to figure out charging. If you can make the E-Transit work for you, it's worth serious consideration – which we wouldn't seriously say about any other large electric van, where you'll pay more money for an experience inferior in every respect.
As such, the biggest problem with E-Transit is likely to get one, as we sincerely doubt supply will be able to keep up with demand.