BMW turns the key to generosity for the young mother
September 14, 2022
Members of BMW Car Club Victoria, Pick-A-Part and The Salvation Army met at St Kilda's Chapel Well last week to hand over a refurbished 2006 BMW E90 320i car to a young mother and her family. (L to R) Rosie Di Giovanni, BMWCCV Treasurer Phil Logan, BMWCCV Loans Manager Ken Lee, Pick-A-Part Managing Director Emma McIndoe, Major Narelle Jacobsen, BMWCCV Motorsports Driver Trainer David Lumb, Committee Member BMWCCV Kevin Flynn, BMWCCV Events Coordinator Tony Whelan and Major Claire Emerton. Photos: Sophie Mayes.
By Jessica Morris
Life is a highway, and it's best not to travel it alone. This is the belief of The Well at St Kilda Chapel Corps in Melbourne.
The well plays an active role in the community under the leadership of Major Narelle Jacobsen, providing a safe and welcoming space where people can connect, build friendships and learn skills.
Over the years, Narelle has forged ties with community groups and businesses, which has led to partnerships that support vulnerable people at The Well.
One such partnership hit the road recently when the BMW Car Club of Victoria (BMWCCV) donated a refurbished vehicle to The Well.
The car was given to a single mother of three who experienced family and domestic violence and found refuge and support at The Well.
Rosie Di Giovanni, program manager for the Salvation Army's Bayside Peninsula Domestic Violence Services, said the car donation couldn't have come at a better time for the 33-year-old client. years old whose children are all under 10 years old.
"This will allow the client to access increased social and educational opportunities for her children, as well as explore educational and employment opportunities for herself. It will also open up opportunities to seek safe and adequate housing," Rosie explained.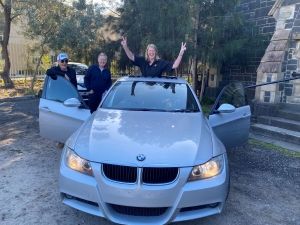 Major Narelle Jacobsen is all smiles as he hands over the BMW Car Club Victoria car to a customer of The Well at St Kilda and The Salvation Army Domestic Violence Services. (Left to right) Phil Logan, Ken Lee and Major Narelle Jacobsen.
Putting the partnership into motion
The relationship between The Salvation Army and BMWCCV began informally a few years ago when Narelle, The Well's Community Development Officer, met BMW Club Treasurer Phil Logan during a get-together at Kingston Garden Body. Phil was at the time the Salvation Army E-Plus Manager in Cheltenham.
"Phil contacted me again to work together to find a recipient to receive a car, and staff worked with the Domestic Violence Service to choose a worthy recipient who was a mother in need," said Narelle.
After spying on an old BMW at a Pick-A-Part car park, which has locations in Kilsyth and Campbellfield, Phil contacted company owner and managing director Emma McIndoe, who agreed to donate the vehicle to the club.
Last week, after a work bee where 10 BMW automobile club members put together the best parts from two vehicles, the club handed out a 2006 BMW E90 320i car, worth $7,000. The remodeled, detailed, fully serviced and registered car also comes with the promise that all future services will be covered.
The club already owned a red BMW with a "questionable engine", so club members put the best of both cars together, giving the vehicle new tyres, a working engine, wood trim and all the necessary accessories. . And what's better, the "leftovers" of the old red BMW are now in the Pick-A-Part yard, allowing the company to continue its sustainable, recycling-focused operations.
"I think this venture showcases The Salvation Army's vision statement, which states that we aim to 'transform Australia one life at a time with the love of Jesus.' For the mother who receives the car, our vision statement comes to life and becomes a reality," Narelle said.
The St Kilda Chapel Corps well was a perfect and scenic location for the handover of the BMW to a customer.
Hope on the path of life
Safety and reliability being paramount, the Salvation Army cannot generally supply vehicles to customers. Yet in this case, thanks to the generosity of the BMWCCV, a family is on the road, and to ensure quality control, they will check the vehicle in three months.
The hope is that the BMWCCV will be able to donate another vehicle over the next 12 months once members find used cars to modify. In addition, the club also supported a tea party fundraiser at The Well earlier this month to fund the service's 'Harvest Love' garden and community kitchen initiative.
It's just to show – it's more than a car; as brilliant and useful as it may be. It's about collaboration, so that a young family has a chance to start over and experience hope on life's journey.
"Thanking God for the salvos is something we hear often as we respond to the overwhelming needs of those who seek our help," Narelle said. "This kind of giving shows what our mission is all about: transforming lives. It becomes a reality for people in need. Thank goodness for the BMW club.
Special thanks to Sophie Mayes for her help in reporting.