► The Chinese brand of electric vehicles arrives in Europe
► It offers a unique charging solution
► Recharge your battery… or exchange it
Nio is an electric vehicle brand that is shaking up the automotive landscape. Having fully established itself in its home market of China, it entered the European market, starting last year in Norway, Europe's fastest growing electric vehicle market. Moves to Sweden, Germany, Denmark and the Netherlands will follow.
Don't think of it as another Tesla clone, though. Nio is more than that, not least because of its battery swap station, which introduces a different way of using an EV. It's not a new idea and has been tried by various people in the past, but Nio is the automaker that makes it work.
In addition to being able to plug in and charge the conventional way, you can visit one of Nio's battery swap stations, where your partially discharged battery is removed and replaced with a full battery.
There are 867 such locations in China. The one we visit in Lier, Norway (on a major suburban route between the port of Drammen and Oslo) is his 868th and his first in Europe. Nio plans to open 19 more in Norway by the end of the year.
This is part of Nio's "Battery as a Service" system. You can buy the car with the battery installed at a normal price and charge it in the usual way. Or you can buy the car cheaper and pay monthly rent on the battery. Opt for the latter option and, in the case of the ES8 SUV we're driving in Norway, you'll save around £8,000 off the list price and be entitled to two free battery swaps – you pay for extra ones – and 200kW of free charge per month. Nio batteries are 75 kWh or 100 kWh.
Each station contains a maximum of 14 batteries, maintained between 18 and 25°C, and can charge them up to 100 kW each. Each "fresh" battery is charged to 90% to maintain its long-term health.
In China, your car is parked in the bay for you by a real human. But in Europe, we get the next-gen, more automated Swap Station.
You request a battery in advance in the car when navigating to the exchange station, and it tells you if there is a queue and when is your turn. You park in a designated spot, and when you press the touchscreen icon to start the swap, the car positions itself above the automated tools that pull the battery out from under the car and install the new in about five minutes. If your car requires a software update, this will also be installed. It's a very clever operation and gives Nio a real USP.
Nio Power Swap Station: how it works
Order
Need a new battery, fast? Set your navigation on the station, order a new pack and enter the virtual queue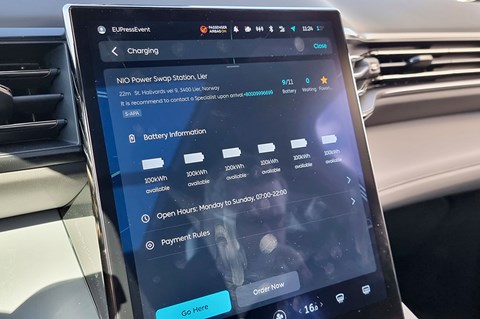 Settle accounts
Park at a designated spot in front of the station and let the car do the work on its own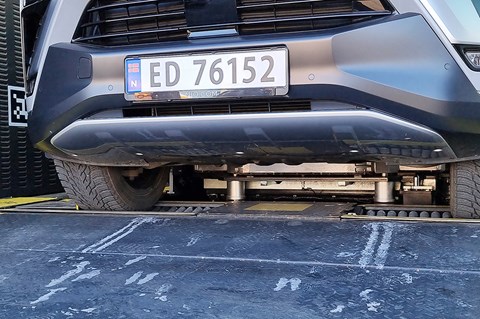 Wrap
After a few knocks and noises, the old battery is removed and the other inserted in less than six minutes
Nio Power Swap Station: does it work?
Yes. But, like charging the conventional way, it will suit some people more than others, depending on their access to chargers, proximity to a battery swap station, and typical mileage.